Events
Stay Up To Date With Our Physical Therapist San Diego News/Event
As your trusted physical therapists in San Diego, we understand the importance of community involvement, which is one of the reasons why we like to sponsor fun and informative events every now and again! It's ways a pleasure to see our current patients outside of our offices, with smiling faces and upbeat attitudes. We also welcome everyone who may be interested in our physical therapy Rancho Bernardo services, or anyone who may be interested in learning more about physical therapy in general. When the team at ASIS Physical Therapy gets together to show you a good time, you can count on an event that you will enjoy and benefit greatly from. Come simply to ask our physical therapists questions free of charge, as we are always happy to help in any way that we can!
Wine, Cheese, and Bodyworlds!
On October 22, 2009, ASIS Physical Therapy hosted a wine and cheese event for all current and future patients. After the wine and cheese, we toured the exciting Bodyworld's xhibit in Balboa Park, during which our physical therapists were glad to answer any questions about the displays and/or about general health issues.
La Jolla Half Marathon 2009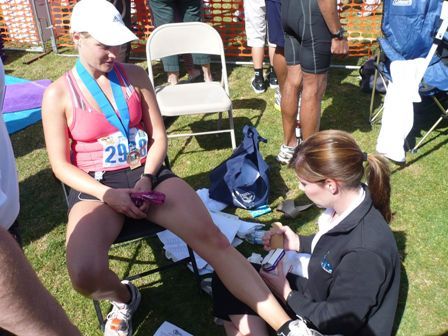 Renew Golf Tournament
Train the Trainer Day - July 2nd, 2009
It is our sincere pleasure to continue to serve the wonderful people of Pacific Beach, Rancho Bernardo and San Diego, so please join us for our next event; we would love to have you there with us.
Enjoy physical therapy Pacific Beach and Rancho Bernardo style! We are certain you will have a good time and feel better from it! You can read more about our full event descriptions and latest happening by visiting our blog page. Click Here.